Browse Categories
Hot products
Contact us

SHENZHEN YOUFU TOOLS CO.,LTD. Address: Floor 6, Bldg. D, Tianhui Bldg., Yousong Road, Longhua Street , Shenzhen CHINA (P.C:518109) Tel: +86-755-83258...

Contact Now
Share
Chinese-cheap-dice professional-anti-static-stainless-steel-tweezers-set-for-mobile-laptop-repair-to
Quick Details
Place of Origin:Guangdong, China (Mainland)
Brand Name:Kingsdun
Model Number:ESD-9
Type:tweezers
Material:stainless steel
Color:ESD Black Tweezers
Function:mobile laptop computer repair tools eyelash tweezers
Product name:tweezer set
Quick Details
Place of Origin:Guangdong, China (Mainland)
Brand Name:Kingsdun
Model Number:ESD-9
Type:tweezers
Material:stainless steel
Color:ESD Black Tweezers
Function:mobile laptop computer repair tools eyelash tweezers
Product name:tweezer set
Application:wholesale tweezers
Name:cheap tweezers ESD Tweezers
Usage:pointed tweezers
Key words:anti-magnetic tweezers
Feature:electronics repairing curved tweezers
For:stainless steel curved tweezers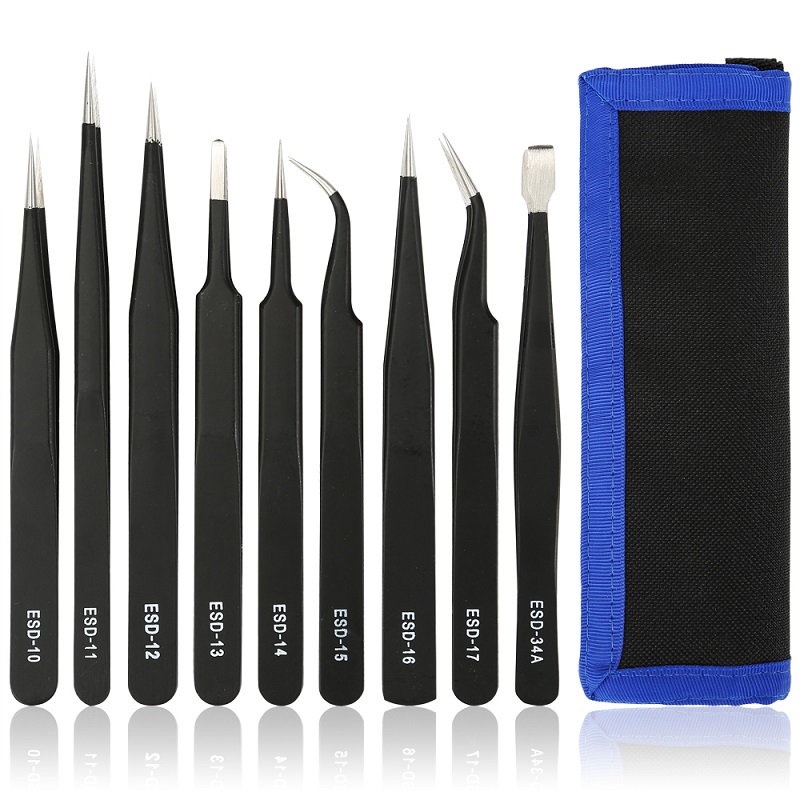 Features

Material: Stainless Steel.
Weight : 200g
Size: as photo showed(1-3mm random error )
100% brand new and high quality Anti-static Stainless Steel Precise Tweezers Repair Tools.
Antistatic, Anti-magnetic and anti-acid.
Pure manual polishing on the edge, fine workmanship.
Good quality will not easy broken.
Precision machining, professional used for SMD, chip, jewelry, eyelash extension,electronic repairing, leather work ect.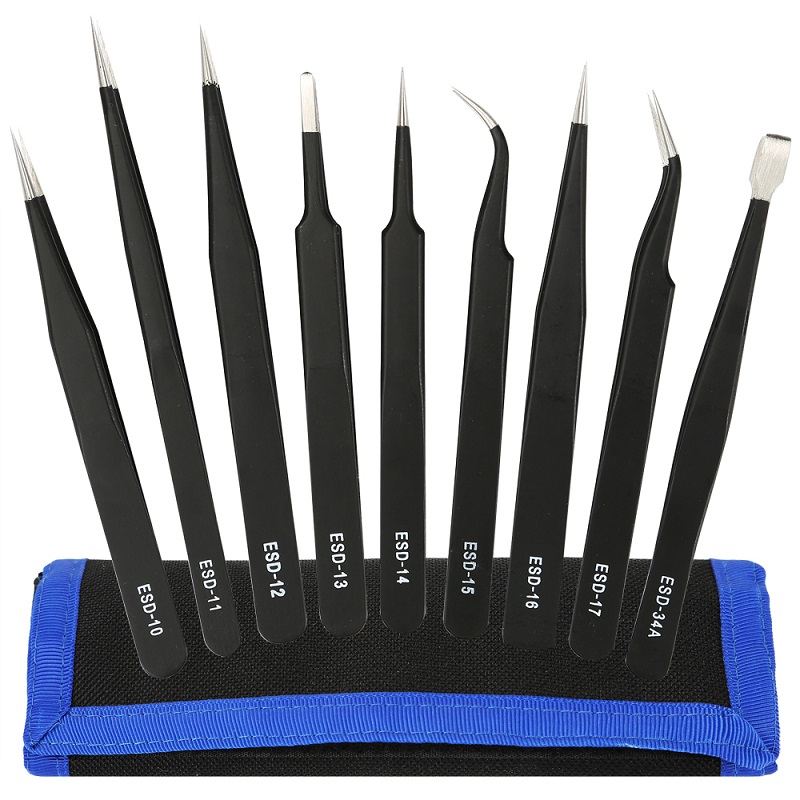 Application:

EDS-10, EDS-11, EDS-12, EDS-14, EDS-16 straight tip: can work with welding integrated circuit chip, or install replacement parts. suitable for small space replacement of precision components.
EDS-13 flat round head: not easy to damage devices, suitable to extract chips, circuit chips and other small parts from narrow space.
EDS-15 45°curved tip: suitable for precision operation and extraction in narrow space.
EDS-17 30°curved tip: suitable for precision operation and extraction in narrow space.
EDS34A-sa flat head: flat head tweezers with better hardness, suitable to clamp components , help processing components pins, and do some simple forming work.

package Included:

1 x ESD-10 (122mm)
1 x ESD-11(140mm)
1 x ESD-12(135mm)
1 x ESD-13(122mm)
1 x ESD-14(122mm)
1 x ESD-15(117mm)
1 x ESD-16(127mm)
1 x ESD-17(117mm)
1 x EDS34A-sa(119mm)
1 x storage bag
Package Size : 80sets in one carton , Carton size : 47*28*38cm . Carton weight : 17/19 kg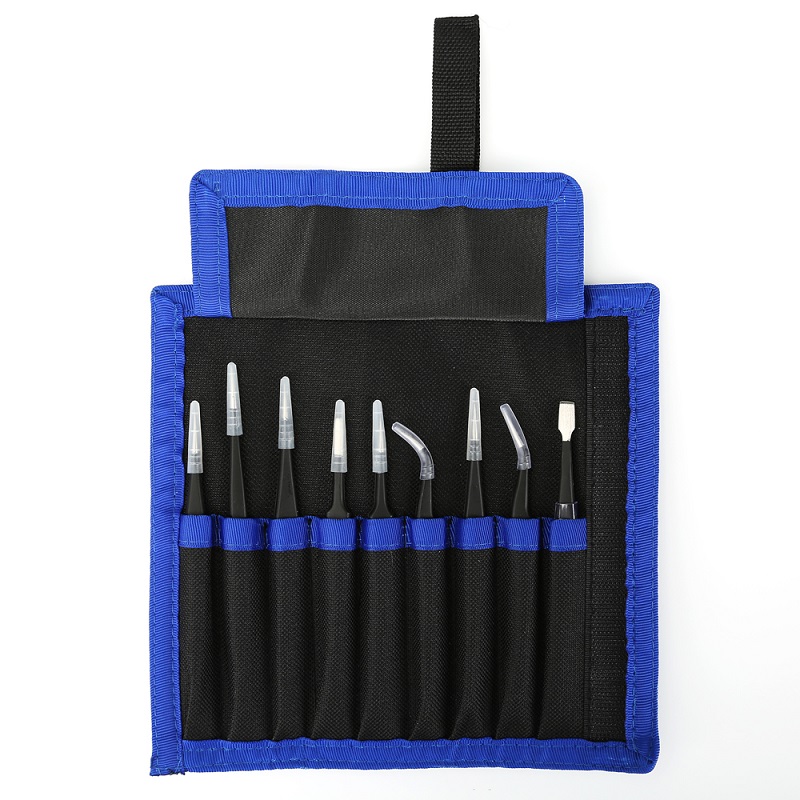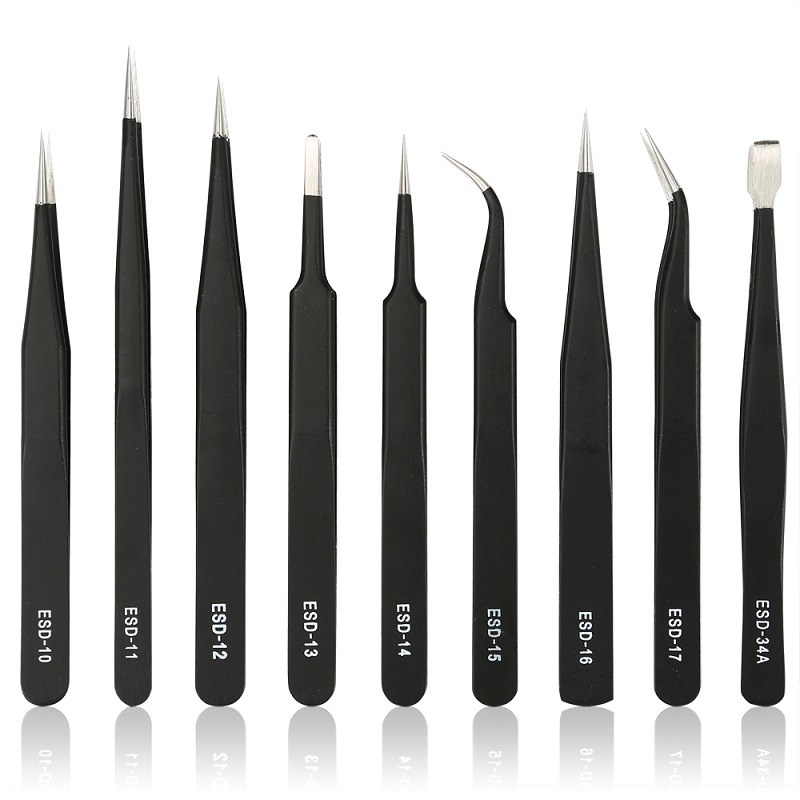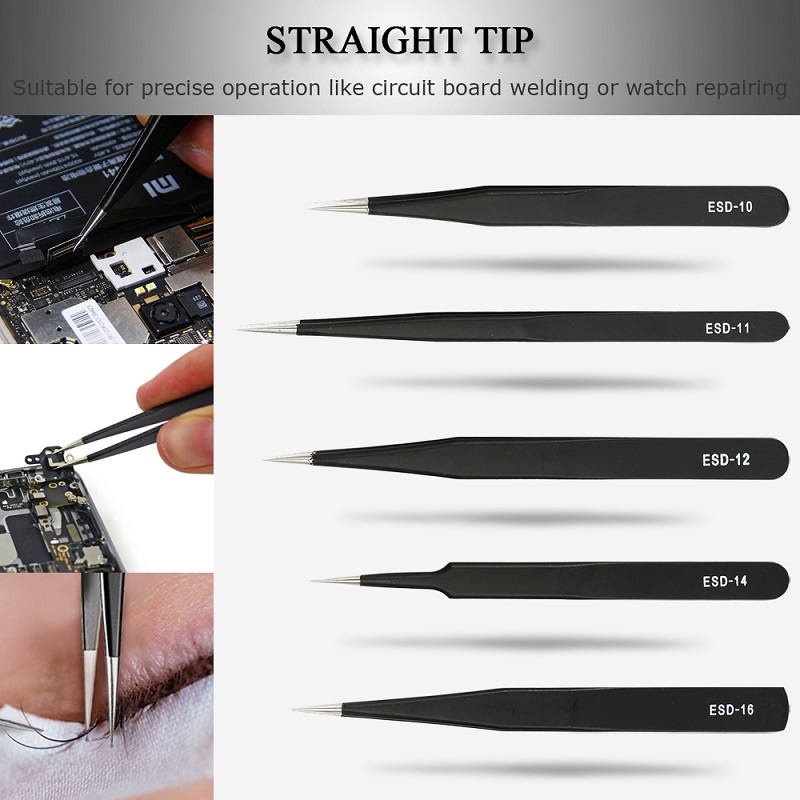 Other Products